Ewwww, there is something about a pickle I just don't care for, but I'll eat this one because it was free!  Whenever we have a board meeting, I order dinner for everyone.  Today's choice was McAllister's Deli, which never changes…Oh! wait sometimes Jason's Deli. (Big difference, not!!) Anyways, pickle came with the meal, so I'll eat it w/ a smile
Finally home for work and I survived the meeting minus one tiny setback of recorder not working.  Crazy how it worked for past 4 years for my friend/coworker but not my luck.  Carlos and I couldn't figure it out and just gave up, stupid mic just didn't like mwah.
Disappointed with my fruit cup from McA's was too tiny so I had to amp it up with more fruits, Oikos and granola. Great for a warm Summer night.
You call this a fruit cup?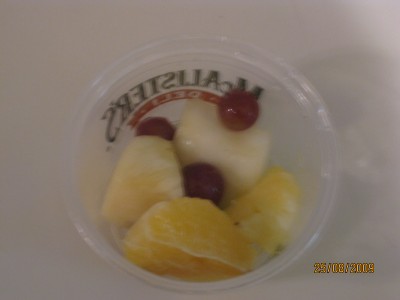 Now , this is a real Fruit Cup baby!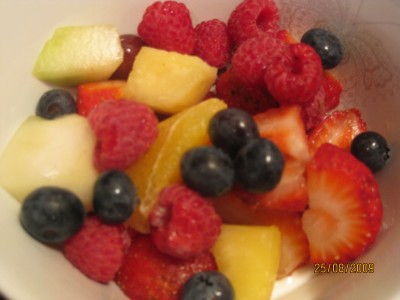 I rest my case.
Followed by a delicious Chicken Greek wrap in a pita…One thing they are excellent at is making sandwiches & pitas!!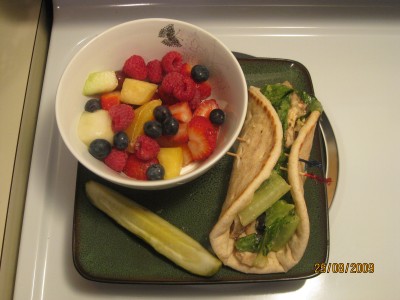 I decided to make the fruit bowl my dessert and eat it last:
strawberries
blue berries
raspberries
oranges
grapes
pineapple
Oikos
granola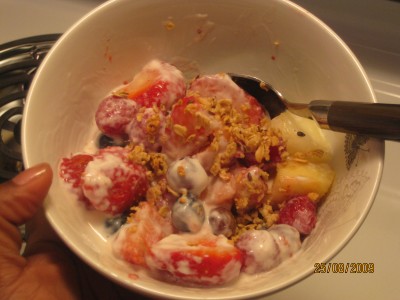 Down the hatch it goes….
Lunch was a great grilled salmon  Ceasar salad at Fuds with the coworkers & I aslo snacked on a naner & PB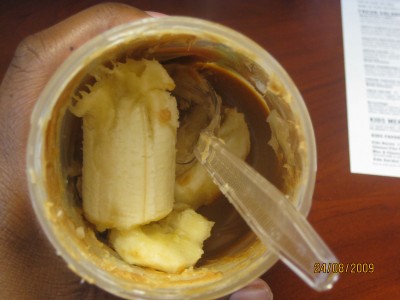 Got the idea from some fellow bloggers about just leaving the last bit in the jar and add whatever to it.  Definitely saved me a dish to wash! Woohoo!
Good Night Folks, off to watch prerecorded Big Brother and do some Killer Jillian Shred while the night is still young

Related posts: