October is definitely a very busy month for me.  I've been cross-training at work which means I have a bigger work load, until my coworker comes back from Maternity Leave. 
I've never been big on 100 cal snacks because I didn't feel they kept me satisfied. In fact I could eat about 2 packs and still be hungry. That was the case until I'd heard of Vita tops & wondered what they were and how they tasted!  How could I get my hands on this product that every blogger seems to love?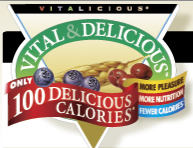 Well, the nice people at Vitalicous sent me free samples to test taste and review.  Vitalicious has vitatops, muffins, mixes, cakes, brownies and coffee.  All products are 100 cals, 4-7g of Fiber, 4g of Protein, low fat, trans-fat free, no cholesterol and contain up to 15 vitamins & minerals.
My Thoughts
I like that Vitalicious  products can stay fresh for 5+ shelf days or store in your freezer up to 9 months.  I've been keeping mine in the freezer, also my way of not eating them up in a week.
Appleberry VitaTop was one of my favorite muffins. Although I didn't taste the apple chunks, I did taste the blue berries and cranberries.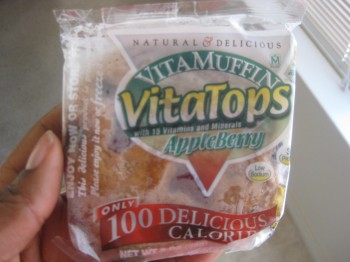 I loved the Chocolate VitaBrownie for all the walnuts it contained  Chris tried the brownie and didn't care for the taste of it.  He said it tasted like a "diet brownie", too bland and too many walnuts for him.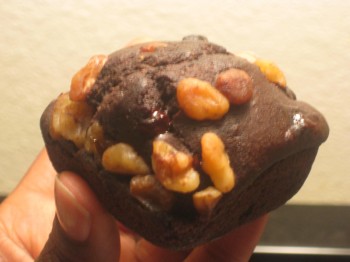 The Blueberry Vitatop was also delicious and it paired well with my blueberry yourt for breakfast!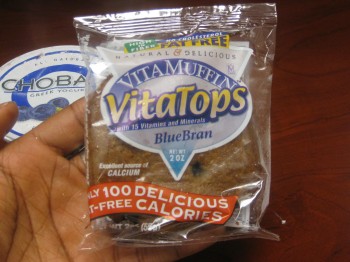 Overall
 I like Vitalicious products and still have many tops and muffins to sample.  I recevied these samples for free and I would purchase them online. I like that they are not expensive and can be purchased by the dozen for $14-16.  So, basically your paying under $1.50 for each, which is pretty cheap in my book!
I'm hoping the "Vitalicious Fairy" will send me their cakes and mixes to sample!
Have you tried Vitalicious products, what's your favorite top, muffin or cake?
(Vitalicious products are also available in stores like Whole Foods, Publix,  and Krogers. Please check their website for more stores.)

Related posts: