Yea! for National Yoga Month, I love me some yoga
  I've decided to challenge  myself  and learn a new pose weekly and enroll in a yoga class again! So, I'm off to check out the local rec center or this yoga studio I've been to in the past!
Oh…before I leave I started my day with some yummy Whole grain cinnamon toast, Oikos & chai tea. I had hot tea today, but I think it's still too warm outside to be drinking it hot, in the morning.  I'll wait till winter comes to drink it hot, so for now it'll be ice cold tea for me!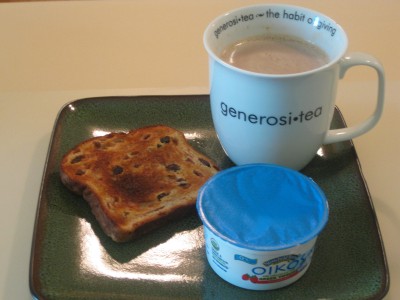 Yummy…
Do you practice yoga?  What is your favorite pose?
Don't forget Life According to Mrs.LC: Vegan Month Challenge, I'm picking Thursdays as my Vegan day!


Related posts: