So far, I've pinched two friends at work this morning, for not wearing green
I celebrated St. Patrick's Day this past Saturday with some friends. We went down to the block party & parade in Lower Greenville. The weather was warm and windy but still sunny. We walked around the streets trying to find an ATM that had money, in order to eat some food and get our hands on the green beer everyone was drinking.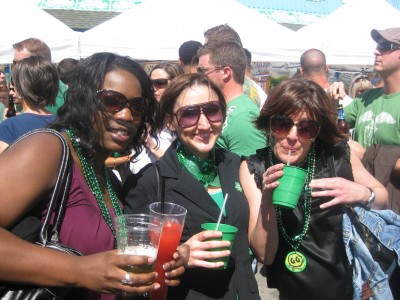 (No, I'm not drinking two drinks at once.  I'm holding my friends drink who was taking our picture)
I'm loving Daylight Savings this time around. Even though we have lost an hour, someway, somehow I have managed to wake up with out an alarm. I've been waking up at 5:30 and still rested. My normal bedtime is usually around 10:30-11:00pm.
I was pumped to get an early morning workout before packing lunch and getting ready for the work day.
Does anyone workout to "The Firm" fitness dvd's?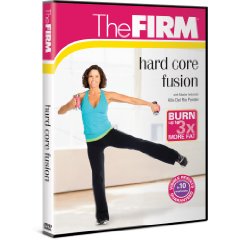 Those ladies are in top shape and everyone is full of energy…some mornings their too happy for me. lol
Morning Oats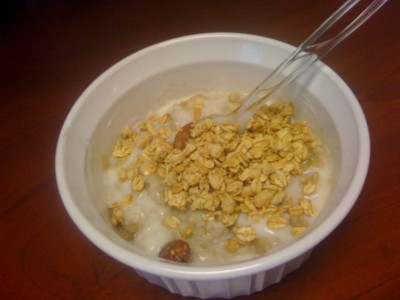 1/2 cup Dannon Light & Fit Vanilla Yogurt

1 package Apple & Cinnamon instant oats

1/2 cup Fruit Not Fat Vanilla Almond Granola
I had forgotent how delicious oatmeal is for breakfast.  I knew that after my morning workout this bowl of oats would keep me full until lunch time.
Lunch: Taco Salad
 (ground turkey, full can of  black beans, lettuce, cheese, tomatoes,
 Have a lovely Wednesday!
I'll be attending a St. Patrick's Day Wedding in 6 hours, so I'm curious to see if  there will be a lot of guests wearing green. I don't even know what I'm wearing, but I know it's nothing green!

Related posts: