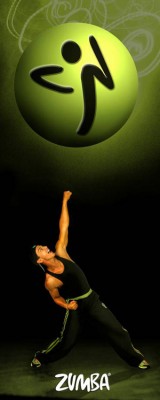 I finally found a Zumba class in my area!! 
I'm bored with fitness dvd's and need a live atmosphere!
To my surprise it's taught at the local rec center across the street from my office. My first class is today and I have a friend & coworker joining me for this new fitness adventure. 
Here's some information for those of you not familiar with Zumba.
Zumba is a dance fitness program created by dancer and choreographer Alberto "Beto" Perez in Colombia during the 1990s. The program combines Latin and international musicwith dance in an effort to make exercise fun. Zumba classes are offered through licensed instructors in more than 50,000 fitness center locations in over 75 countries.[1] DVDs are also available for learning at home. Classes and instructional DVDs use music based on salsa, merengue, cumbia, reggaeton and other international music styles and forms.
Other Findings:
Browsing through www.sparkpeople.com, I came across their fitness store. I've used their website to track my calories for 4 years now, but I had never bothered to browse their store. They have Fitness equipment, apparel, lunch kits, dvd's and certificates at great low prices.
Also I've been loving www.sparkrecipes.com for delicious meals. They even have a SparkPeople and SparkRecipe IPhone app!
What new things have you come across recently?

Related posts: