I can't believe I opened the fridge this morning and had no eggs. Eeeck!  I love eating scrambled eggs every Sunday morning, but I guess I will survive. 
This called for trying a tofu scramble…one last  time.  The last time I made a tofu scramble it turned out really bad…what a huge waste of tofu, that I just tossed out. That's what happens when you get lazy and don't drain all the water out.
Surprise! Suprise! It turned out right this morning…extremely DELICIOUS.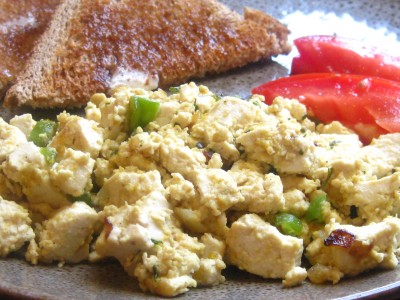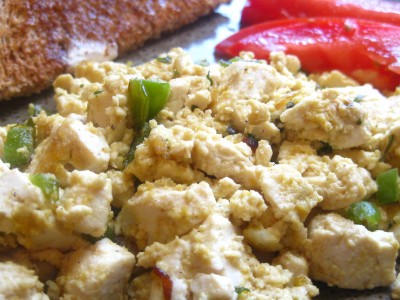 Directions
1/2  package of extra firm or firm tofu
1/4 bell pepper (diced)
1/4 onion (diced)
2 tablespoons nutritional yeast
oregano
parsley
cumin
salt & pepper
*I adjusted the amount of onions, peppers and tofu to make a serving for one.
Saute onions and peppers first, then add your crumbled tofu + spices. You can use any spices to your liking.
Have a lovely Sunday. ;)
Ps. I'm excited about our first "Sons of Pitches" softball team practice & meeting today.  I've yet to buy a glove, so I may need to look into that asap.

Related posts: